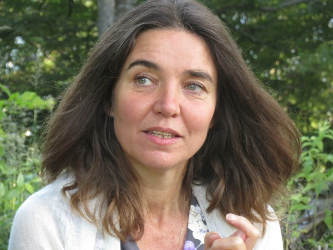 Kosha Anja Joubert (MSc Organisational Development) is an international facilitator, trainer, manager and consultant.  She has worked extensively in the fields of curriculum development, international collaboration and sustainable development. She has lived in South Africa, The Netherlands, Germany and the UK and brings a deep understanding of cultural diversity to her work.  She is fluent in German, English, Dutch, and Afrikaans and has also delivered programmes in French.
In her twenties she travelled and worked with a performance group, the Mutoid Waste Company for two years. In this time she gathered experience creating props and costumes from waste (mainly rubber inner tubes) and MC'ing parties and performances. Kosha currently serves as President of the Global Ecovillage Network (GEN-International). GEN was set up in 1995 to support organisations and societies to transition into resilience, learning to sustain and regenerate their social and natural environments. GEN builds bridges between policy-makers, academics, entrepreneurs and sustainable community networks across the globe. GEN has consultative status in the UN – ECOSOC. (www.ecovillages.org).
Kosha simultaneously holds the position of Managing Director of GEN-Europe, the European branch of GEN-International (www.gen-europe.org). In this role she has been the driving force behind the emergence of GEN-Africa as an independent region within GEN, and is currently working with organisations in the Middle East on the emergence of GEN-Middle East. Through this, Kosha has gained extensive experience in working with participants from these regions in Leadership and Sustainable Venture Trainings, financed and funded through the German Foreign Ministry and the Anne Lindh Foundation.
Kosha is a co-founder of Gaia Education, which develops trainings at the cutting-edge of sustainability,  and sits on the Certification Board of Gaia Education (www.gaiaeducation.net). She is co-author of the internationally applied Gaia Education curriculum, The Ecovillage Design Education, the development of which was endorsed by UNITAR and recognised as an official contribution to the UN 'Decade for the Education for Sustainable Development 2004-2014'. The Ecovillage Design Education has been run in 35 countries since 2006. Kosha has been lead faculty on 14 of these courses.
In 2010, Kosha initiated an EU-funded Learning Partnership that brought together the expertise of eight key European educational movements in the field of sustainability to synthesize the best of their teaching materials and methods. This led to the curriculum of the Transition to Resilience Training, a 2-year long Training of Trainers in organisational development and leadership that is now being piloted. This training focuses on building learning communities amongst participants to enhance continuing personal and organisational growth.
Kosha has worked as an organisational consultant since 2006, specialising in leadership development and the development of civil society organisations' capacity to influence societal transitions. Lately, this work has brought her in more contact with governmental institutions, and the corporate world (Thailand, Senegal, Germany, EU). She has regularly organised and facilitated conferences, especially in multi-cultural settings in Europe (Finnland, Germany, Portugal, Italy, Hungary, Switzerland) and Africa (Egypt, Senegal, South Africa, DRCongo, Kenya), also since 2006.
She has worked as a sustainability trainer and educator from 1996 onwards, specialising in courses on communication skills, leadership, facilitation, decision-making, conflict-facilitation, collective intelligence, holistic sustainability and resilience. She has led 4-week courses in international settings in Germany, Italy, India, Senegal, Kenya and South Africa.
Published works:
Die Kraft der Kollektiven Weisheit – Wie wir gemeinsam schaffen, was einer allein nicht kann, Kamphausen Verlag, 2010 (This book is on the Power of Collective Intelligence, to be published in English in 2014)
Beyond You and Me – Inspirations and Wisdom for Building Community, Permanent Publications, 2007
Training:
Study of Linguistics and Cultural Anthropology at the University of Tübingen, Germany and the University of Amsterdam, NL;
MSc Organisational Learning and Development;
Certified trainings in Nonviolent Communication, Process Work, Forum work.